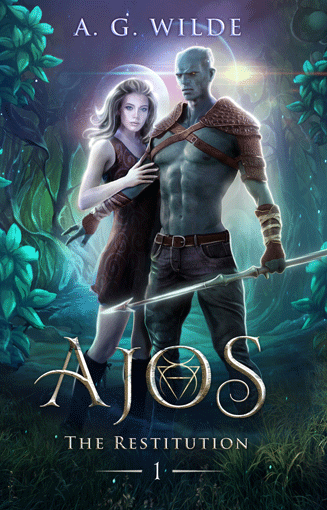 AJOS: BOOK 1

She didn't move to the big city just to be kidnapped by aliens.
That wasn't even possible...
Right?
WRONG.
When Kerena wakes up, she's not on Earth anymore.
Heck, she's not even in the same galaxy, and the face hovering so close she can make out every detail? That face is definitely...not...human.

But before she can really figure out what's going on, Kerena realizes she's caught in the middle of a war—one she was thrust into as soon as she was ripped from Earth.

She's surrounded by aliens in a rebellion, but there's one—the one with the strange golden eyes, minty-teal skin, and rippling muscles—that holds her attention.

His presence is magnetic and his heated gaze makes something stir deep within her.

He's battling something that has nothing to do with the war and his warning that she should stay away does not go unheeded.

He's a dangerous rebel fighter. She gets that. So...why is he still hovering so close? And why is he growling at everyone that so much as looks in her direction?

Most of all, why does he keep looking at her like she belongs to ... HIM?
V'ALEN: BOOK 2

"I should have warned you of how illogical it is to fall in love with a Kyron."

An emissary to the Restitution, V'Alen does not interfere in the war between the humans and High Tasqals.

But when the Tasqal's minions attack the base and the voice of one female reaches his auditory sensors, he answers her call for assistance.

[Scan: Female. Designated "Alaina".]

A human female who swears him to secrecy the moment he rescues her.

Alaina is completely illogical. She is the definition of a faulty being…but when she proposes a contract he cannot refuse, V'Alen takes the bait.

The deal? A glimpse of humanity in exchange for his silence.

[Scan. Odds 95/5]

There is a 95% chance nothing will occur that will change his existence.

…But for the universe, 5% is more than enough.